SHAH MARMO (P) LTD.

Marbles and Granites Process Facility

Investment in World class Technology
One and only in India a "Fully Integrated Marbles and Granites Plant" which is Among the top 5 Marbles and Granites plant in the world
---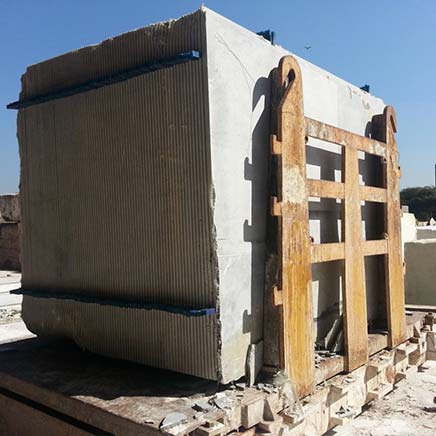 Block
Strengthening
special imported fiber to strengthen the block before taking it into processing
---
SHAH MARMO (P) LTD. uses special Imported Fiber to strengthen the block before taking it into processing. The block is covered with Imported Fiber from 3 sides and glued with the help of Epoxy Resin and dried for 24-48 hours. This ensures the edges of slabs do not chip-off during sawing and reduces wastage.
The fiber around the slabs provides safety to the slabs during transit from plant to site as well to labor's hands during manual handling at site.
---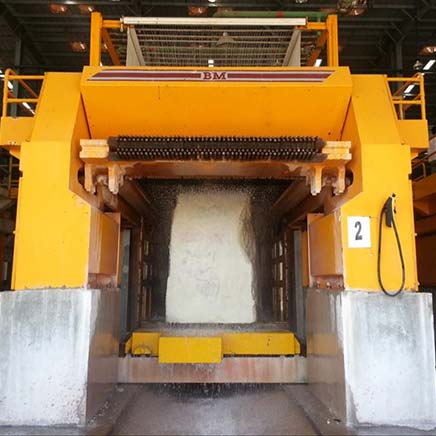 Block
Sawing with BM Gangsaws
accurate sawing of slabs with least vibrations
---
SHAH MARMO (P) LTD. has the world's best BM Gangsaws for sawing the blocks. The BM Gangsaws offer accurate sawing of slabs with least vibrations.
The variation in thickness in BM Gangsaws is restricted to +/- 0.77 mm compared to usual market practice of +/- 2 to 3 mm variation. Thus the BM Gangsaws provide better flatness accuracy and uniform slab thickness.
---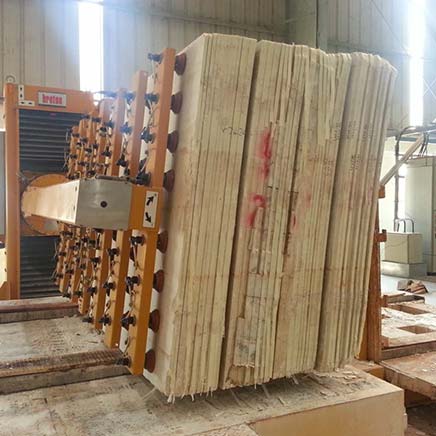 Automated
Handling of Slabs
the slabs are handled by robotic hands with vacuum cups
---
SHAH MARMO (P) LTD. Marbles and Granites Processing Plant is fully automated. All the slabs are handled by Robotic Hands with Vacuum Cups. This helps in reducing the chances of breakages due to manual handling of slabs.
The edges of the slabs also remain intact and inherent cracks in the slabs do not open during automatic handling.
---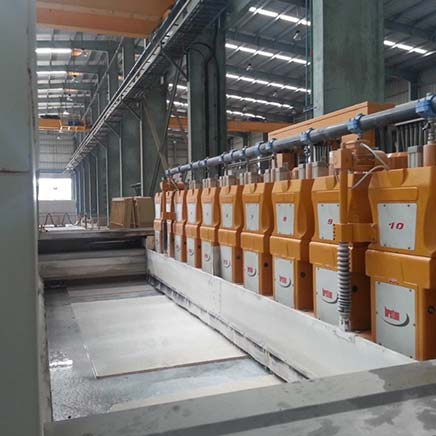 Slabs
Polishing – Pre-Grinding
fully automated polishing line with a unique pre-grinding process
---
SHAH MARMO (P) LTD. has a fully automated Polishing Line with a unique Pre-Grinding process for each slab before polishing. The Pre-Grinding is done with an 11-header computerized and synchronized machine which removes all undulation within the slab to give a perfect surface with no variation.
During the Pre-Grinding process, all 11 heads of the machine work at various pressures and adjust automatically to ensure the entire slab surface is even.
Our

Plant & Machinery

We have 2 Marble Gangsaw Machine, 2 Automatich Liner Polishing Machine, 5 Multy Blades Granite Block Cutters, 1 Automatic Resine Treatment Plant, 1 Bridge Cutting Machine for cut to size orders in mm cutting, 1 Block Wire Dracing Machine, and area of 14000 sq mtr for processing materils.

We have an annual production capacity of marble is aproxx 120000 sq mtr and 180000 sq mtr of granite annualy.